Greek pensioners queue for hours for cash payouts
Comments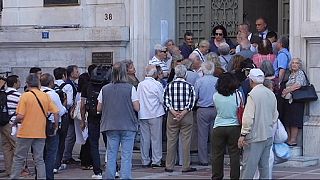 Despite capital controls, nearly a thousand Greek banks opened their doors on Wednesday to let pensioners without cash cards to make withdrawals.
They were expected to each be allowed to take out up to 120 euros, but new problems arose as they were forced to queue in alphabetical order.
"This decision to limit withdrawals is very bad but people are patient and calm. We will overcome this situation. A solution is going to be found," one man told euronews.
"With 60 euros I can not afford to buy the essentials. My three kids are unemployed, and we can not live this way. Europe should be more serious," said another man.
At some branches there were bottles of water made available to those who queued for several hours in the hope of getting their hands of a small share of their money.
Euronews Athens reporter Akis Tatsis said there was a general mood of acceptance among the pensioners but overall concern over Sunday's referendum and the ongoing political crisis.
One opinion poll published in a popular daily newspaper suggests 54 percent of Greeks say they plan to oppose the bailout proposal with only 33 percent in favour. However, other surveys taken before Greek bank closures point to just a narrow gap between both sides.