ISIL mints 'Islamic coin inspired by divine law'
Comments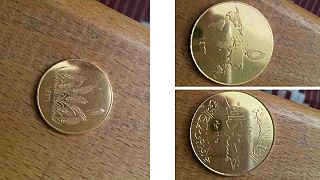 First claim the territory then spread the word via a slick PR operation, then launch a currency.
That is exactly what The Islamic State of Iraq and Levant has done by minting its own 'Islamic Dinar.'
Anti-ISIL activist Abu Abu Ibrahim Raqqawi, the founder of Raqqa is Being Slaughtered Silently, displayed the gold dinar on social media and said it would come into circulation soon.
#Raqqa the new coins that #ISIS say it will deal with it soon #Syria#IS#ISILpic.twitter.com/7IdBNQuaOE

— Abu Ibrahim Raqqawi (@raqqa_mcr) June 22, 2015
Last November the group expressed a desire to reintroduce the gold dinar and silver dirham as the means of exchange within its self-proclaimed caliphate..
In a sulphureous statement ISIL said it wanted to free Muslims from the yoke of a "satanic global economic system.'
The gold coin is reported to be worth €124 and is based on the original tender of the Caliphate of Uthman, a key figure in early Sunni Islam.
The five dinar coin carries the inscription "The Islamic State-A caliphate based on the doctrine of the prophet," on its obverse (heads) and a map of the world on its reverse (tails.)
The one dinar coin is different from the five dinar coin as it pictures seven wheat stalks, a Quranic reference to "the blessing of spending the money in the way of Allah."
ISIL says they are inflation-proof and inspired by divine law.
#ISIS's so-called currency exchange rate: 1 Gold Dinar is $139. 1 Silver #Dinar is $1. #Propaganda. pic.twitter.com/J4z7oQa1Fh

— Terrormonitor.org (@Terror_Monitor) June 23, 2015
To mint such coins ISIL will need vast amounts of precious metals and how it will get them is up for debate.
ISIL is reportedly doing a roaring trade in Iraqi and Syrian antiquities, they control oil reserves and run profitable extortion rackets.
Analysts believe ISIL is sitting on $2 billion in assets, which earns around $5m a day in interest.
ISIL claims existing currencies are behind their "enslavement and impoverishment," and makes them "prey in the hands of the Jews and Crusaders."