Greek PM holds more talks with lenders to shore up his debt plans
Comments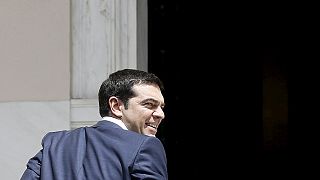 Greek Prime Minister Alexis Tsipras is in for more talks with his country's main lenders today in order to smooth over reported divisions regarding his latest debt plans
The
IMF
is said to be less than content over tax rises which it feels the Greeks cant sustain while there's not enough development strategy. It has to be sorted out before this evening's meeting of eurogroup finance ministers.
But not everyone back home approves of his efforts to avoid a debt default. Thousands gathered in Athens on Tuesday fearing his hoped for deal will mean more austerity.
Most pensioners taking part in the rally in Athens were afraid they wouldn't be able to cope with tax rises:
"Even if there are no cuts to pensions but everything gets more expensive, for example the increase in VAT on electricity, what are pensioners supposed to do? How much more will pensions be reduced? Sixty percent of pensioners get about 500 euros, sixty percent," said one man.
While another demonstrators said:
" We have shed blood and they keep asking for more and more when we only get 500 euros. How will we get by with just 500? After electricity and water and telephone bills, there is nothing left."
Communist led pensioners arrive in Athens to protest Syriza's imminent deal with lenders pic.twitter.com/TN34T5VR73

— Paul Mason (@paulmasonnews) June 23, 2015
Tsipras has also to get parliament behind him. There has been anger among some lawmakers who have accused him of caving in to creditor pressure, saying his plans will lead to "social carnage".
Athens urgently needs money to avoid defaulting on a 1.6 billion euro loan repayment due to the IMF next Tuesday.
Jitters over the risk of a default leading to capital controls have prompted savers to pull billions of euros out of Greek banks, forcing the ECB to increase emergency liquidity assistance (ELA) to keep them afloat.