UPDATE: Hungary retreats from EU asylum rule suspension
Comments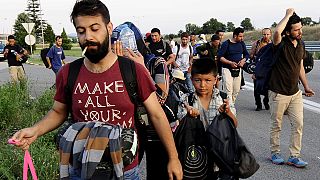 [The Hungarian government has issued a statement saying it is no longer suspending the rules but instead wishes to discuss the issue with the EU. New story to follow]
On Tuesday, Hungary suspended a key EU asylum agreement, putting it on a collision course with Brussels.
The rule states that a country must take back asylum seekers who first entered Europe through their borders.
A government spokesperson said the country is overburdened by illegal immigration, adding the agreement would be suspended for an indefinite term.
According to the Interior Ministry Hungarian police have discovered more than 60,000 migrants crossing its border with Serbia.
The EU has called on Budapest to clarify its position and what measures are being taken to remedy the matter.
It comes in a week in which European leaders are to discuss plans to redistribute asylum seekers from Greece and Italy.