Hungarian fence is 'barrier to asylum seekers' says UNHCR
Comments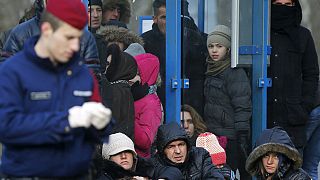 Hungary has announced plans to build a fence four-metres high along its border with Serbia to keep out illegal migrants.
Many of those seeking to enter the EU via Hungary are from Kosovo and Albania, but increasingly they are from Africa, too, choosing the Balkans as an entry point rather than Greece, Italy, or Spain.
As a member of the EU's visa free Schengen zone, Hungary is an attractive destination for those desperate to make it into Europe.
However, the move to fence out migrants has attracted criticism from the UN's refugee agency.
"Any wall or fence would be a barrier to asylum and people have the right to seek asylum," Kitty McKinsey from the UNHCR told euronews. "This is enshrined in the Hungarian Constitution, it's a universal right, we want to make sure that Hungary keeps its borders open and the people are able to seek asylum and have their claims heard," she explained.
According to the Hungarian Immigration office around 57,000 people have crossed the border illegally this year, a sharp increase from 2014. Euronews correspondent Andrea Hajagos in Budapest said:
"The idea of building a fence has been mentioned in the last few days, but according to the press here most of the governing MPs don't support it, and couldn't even imagine it becoming a reality. Yet the government has decided to build its version of the Iron Curtain."