Serbia responds angrily to Hungary's plan to build a fence along their joint 175 km border
Comments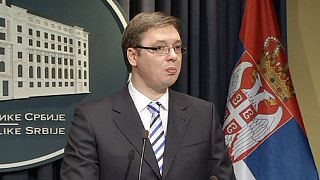 Serbia has responded angrily to Hungary's plan to build a 175 kilometre border fence between the countries.
I believe last time a wall like this was built, it was 1961.
Details of the four-metre high barrier were released on Wednesday. Budapest says it can wait no longer for an EU solution to immigration management.
"I believe the last time a wall like this was built, it was 1961," said Serbian Prime Minister Aleksander Vucic. Speaking directly to his Hungarian counterpart, he added, "that was a long time ago, amid problems and for reasons I well understand, Viktor Orban. "But this has nothing to do with us. Building a barrier like this cannot and will not happen."
There is currently a strong flow of migration towards Western Europe from the east. Positioned in the middle of the Balkans, Serbia is a natural conduit for those seeking asylum.
There has been a sharp rise in the number of migrants and asylum seekers entering Hungary in 2015.
Figures suggest Kosovan nationals are by far the largest group of refugees using Serbia as a staging post on their journey.