Six gunmen dead in co-ordinated Taliban attack on Afghanistan parliament in Kabul
Comments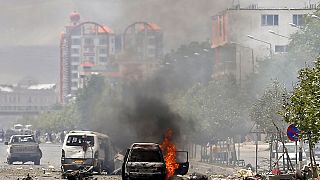 An attack on the Afghanistan parliament in Kabul has come to an end. Officials say six gunmen were killed and nineteen people wounded.
The co-ordinated attack by the Taliban began when a suicide bomber struck outside the parliament building in Kabul. Gunmen then opened fire from an area close to the chamber, a police official confirmed.
It's repored one female MP was among the 19 people who were wounded. The Taliban claimed responsibility and said they carried out the attack to coincide with a vote to endorse a new defence minister.
The attack at the heart of the symbolic seat of power by the insurgents has added to questions about the NATO-trained Afghan security forces ability to cope.
Violence has spiralled in Afghanistan since the withdrawal of most of the foreign forces at the end of last year more than 13 years after the US-led military intervention toppled the Taliban from power.