Charleston demonstrates its unity following church massacre
Comments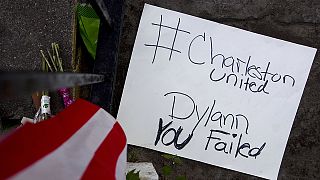 The soul-searching continues in the USA following the Charleston church massacre, as does the public anger.
People joined hands on Sunday across the bridge linking Charleston with the neighbouring Mount Pleasant suburb, in a display designed to show a united community.
Ironically, the bridge is named after a vocal defender of the Confederate flag that featured prominently in the accused killer's life; photos from his website show him waving it, while burning the Stars and Stripes. It has also revealed his manifesto, in which he praises one group that has made donations to local Republican politicians.
The flag of the slave states defeated in the American civil war was hoisted over South Carolina's state house at the height of the civil rights movement in the 1960s, and was only moved at the start of this century to a less sensitive spot, but there are increasingly bipartisan calls for it to be lowered for good.
At least one confederate memorial in Charleston has been defaced since the shooting.
Many are wondering if this latest gun outrage may prod legislators into taking a more stringent attitude to gun control, although the weight of history still appears to be on the gun lobby's side.