Charleston shootings: Obama condemns 'blight' of racism in US
Comments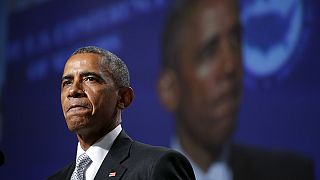 President Barack Obama has condemned what he's described as the "blight" of racism in the US.
It came as Dylann Roof, the Charleston church shootings suspect, made his first court appearance. He is accused of murdering nine people, all of them black.
Obama said racism continues in the US, "betraying" ideals and "tearing" apart democracy.
"The apparent motivations of the shooter remind us that racism remains a blight that we have to combat together," said Obama.
"We have made great progress, but we have to be vigilant because it still lingers."
Compounding anger over the deadly church attack, a controversial Confederate flag has been flying in the grounds of the South Carolina State House. Roof's car allegedly bore the same symbol.
"When we see that symbol lifted up as an emblem of hate, as a tool of hate, as an inspiration for hate, as an inspiration for violence, that symbol has to come down. That symbol must be removed from our state capital," said Cornell William Brooks, President of the National Association for the Advancement of Coloured People (NCAACP).
The Charleston shootings come after a wave of protests across the US over police killings of unarmed black men.
They have focused attention on the criminal justice system and renewed a civil rights movement under the banner of "Black Lives Matter."