Charleston killings: Daughter of one of the victims forgives suspect
Comments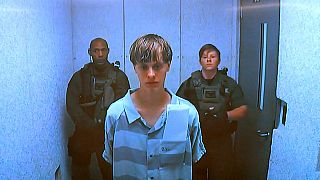 The suspect in the Charleston church killings has faced families of some of the nine victims during his first court appearance court on Friday.
Dylann Roof listened as one-by-one they called on God to forgive him for the murders.
The worshipers were shot dead on Wednesday evening at the Emanuel African Methodist Episcopal Church after Roof sat in on their bible session for over an hour.
In court, Nadine Collier, the daughter of victim Ethel Lance, told him: "I will never be able to hold her again but I forgive you and have mercy on your soul. You hurt me. You hurt a lot of people. May God forgive you and I forgive you."
Read what other victims' relatives said when they addressed Roof in court.
One again America finds itself confronting the issues of race and gun violence.
In a speech to US mayors on Friday, President Barack Obama said: "The apparent motivations of the shooter remind us that racism remains a blight that we have to combat together."
Obama reiterated his support for tougher gun control legislation which was promised in the wake of another mass shooting tragedy at Sandy Hook elementary school in 2012.
But plans for stricter laws have been held up by Congress ever since.