Two Moroccan men jailed for kissing in public
Comments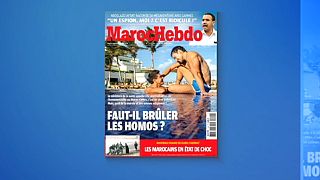 Two Moroccan men have been jailed and fined for kissing in public in a trial criticised by human rights groups.
The pair, named Lahcen and Mohsine, received four-month sentences after being caught smooching in front of Rabat's famous Hassan Tower on June 5th.
Homosexual activity in Morocco is punishable by up to three years in prison.
A lawyer for the 37 and 25-year-old said they would appeal.
Their jailing comes just a week after magazine Maroc Hebdo asked on its front cover: "Should we burn gays?"
The edition was eventually withdrawn after public outrage.
Its editors said the headline and story were meant to stimulate debate.
Moroccan magazine recalls issue with headline 'Should We Burn Gays?' http://t.co/1rUJRJTj8cpic.twitter.com/Tymrdlus2X

—

FRANCE

24 English (@France24_en) June 13, 2015