Fights and insults end UN quest for peace in Yemen
Comments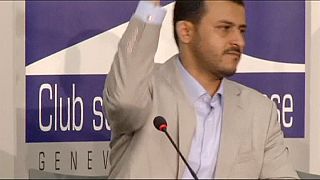 UN brokered peace moves on Yemen have collapsed with exiled government negotiators set to return to Saudi Arabia.
Earlier the talks descended into chaos.
Supporters of the exiled Yemeni government threw a shoe at Houthi officials and shouted insults as the animosity between both camps erupted into violence.
A fight ensued before order was restored.
Yemen peace talks descend into fistfight in Geneva http://t.co/27onVwVBwa via @IrishTimesWorldpic.twitter.com/8j2Ix7j5y0

— The Irish Times (@IrishTimes) June 19, 2015
The UN wants a much needed humanitarian truce between the Saudi-backed government and the Iran allied Houthi rebels.
A Saudi led bombing campaign on Houthi held territory is exacerbating the chaos.
The UN offered some stark figures saying some 21 million people, 80 percent of the population, are in need of some form of humanitarian aid or protection.
#Yemen facing 'serious food insecurity,' warns new joint #UNFAO & @WFP study http://t.co/mZ0ggsjZhZpic.twitter.com/VAqVyK5Gju

— UN News Centre (@UN_News_Centre) June 18, 2015
The UN has launched a fresh appeal for $1.6bn to assist war-ravaged Yemen.