ESA chiefs discuss building a base on the Moon and visiting Mars
Comments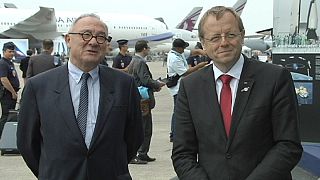 As the European Space Agency (ESA) prepares for a change of leadership, euronews met with Jean-Jacques Dordain, ESA Director-General since 2003, and Johann-Dietrich Wörner, who currently heads the German Space Agency and will take over from Dordain on July 1.
Our reporter Jeremy Wilks interviewed the pair at the Paris Air Show, where ESA has been showing off some of its finest missions. These include the IXV, Intermediate Experimental Vehicle and the famous robotic lander Philae, which touched down on a comet last year, and has now woken up again, ready to share more exciting science.
Jeremy Wilks, euronews:
Jean-Jacques, when you look at Philae here, how do you feel?
Jean-Jacques Dordain, Outgoing Director-General of ESA:
"I feel well. I must say that it's a good time to leave, because leaving with such a success, I think that is the best."
euronews:
What's going to happen now with Philae? What are we going to do with it?
Johann-Dietrich Wörner, Incoming Director-General of ESA:
"When I came to DLR (German space agency) some eight years ago, I was presented this marvelous experiment and I said 'It will not work'. Because I'm a civil engineer, I thought 'that's not possible'. What is going on now is that we have already three hours a day of sunshine on the lander. So Philae is active again, he is assembling data on the environment around him. And we will have a slight change of the orbit of Rosetta to have a better connection, and I'm sure we will have in the coming weeks really very nice data from the lander and from Rosetta, so that we know more about comets. And as you know, comets are the oldest part of our solar system, so we'll get more information about what was here some billion years ago."
euronews:
Jean-Jacques, looking back at your time in the job, what's your highlight over those years?
Jean-Jacques Dordain:
"Certainly, for me, as a previous director of launchers, the fact that we could complete the range of ESA launchers, from Ariane to Soyuz and Vega, is certainly something important. Landing on Titan, when I had just arrived at ESA, was a fantastic event, which makes ESA enter the premiere league of space powers. The fossil light (cosmic microwave background) given by Planck, Rosetta and Philae, all that makes ESA a very important space agency in the world."
euronews:
You mention launchers. That's somewhere where there seems to be a lot of movement at the moment. We seem to be moving towards privatisation with Arianespace. What's the idea behind that? Is privatisation the right way forward?
Johann-Dietrich Wörner:
"We are in a shift of paradigm towards a clear understanding and sharing of risks and responsibilities. So in the past, the public sector gave the money and the private sector did not take the responsibility. So in order to change that, we are now looking to a different scheme, and I'm quite sure that we will succeed."
euronews:
Jean-Jacques, let's talk about international partners. The European Space Agency has had a very good working relationship with the Russian space agency Roscosmos. They've had a few failed launches, they've had some problems, there are question marks over their ability to be good partners. Do you think we should carry on working with the Russians?
Jean-Jacques Dordain:
"I am convinced that we have to continue to work with the Russians. First of all, because today, we need the Russians. We cannot launch Galileo without Soyuz, we cannot launch ExoMars without the Russians, so we need the Russians. International cooperation is an important factor of space activities. And we should not export our problems of planet Earth into space. On the contrary, we should import what cooperation in space brings to planet Earth."
Johann-Dietrich Wörner:
"ESA has good relations with many, many countries in the world, and therefore ESA can be something like a broker, and is already something like a broker, even in difficult times on Earth."
euronews:
You mentioned earlier the Galileo project. At the moment, I don't seem to have a Galileo signal in my car, I seem to have a GPS signal. When is it that I go to the hire car company and they say 'Do you want to have a Galileo in your car?'
Jean-Jacques Dordain:
"We have a Galileo signal! And maybe you don't even notice that because the terminals on the ground are compatible with GPS and Galileo, but we already have eight satellites in orbit."
euronews:
So the Galileo navigation system is going to be in place soon, working, just as GPS is?
Jean-Jacques Dordain:
"The first services will be operational next year, 2016, and the full services will be operational in 2019, 2020 at the latest."
euronews:
Next year, you're going to go to Mars, and begin that search for life. In 2018, a big rover is going to go there and start looking for life. Do you think they'll find it?
Johann-Dietrich Wörner:
"I would turn the question around. Do you think that this big universe only has life on Earth? We have so many solar systems, so many planets, so many Suns, I'm quite sure that we are not the only one. I don't expect green people over there, or something like that! But it's really interesting whether you'll find something showing that there was something like life in a very basic function."
euronews:
A lot of people are quite interested in sending humans to Mars. Do you think that's a good idea?
Jean-Jacques Dordain:
"I am sure that humans will go to Mars. I don't know the calendar, but I am sure that humans will go to Mars."
euronews:
At the moment, the presence that we have for humans in space is the International Space Station. That likely has to be replaced within the next 10 years or so. What are we going to do?
Johann-Dietrich Wörner:
"So we have to develop some ideas, together with our partners in the US, and also in Russia, and maybe even with China and India, to look at the advantages of the ISS which we had in the past. Also to look at what were the deficits of the ISS, and then to develop a new plan for the future. One of my ideas is to go to the Moon, to the far side of the Moon. To have robots and humans really be present there, on a permanent station – not bring all the stuff to the Moon, but using also the material of the Moon, for instance to build a large telescope, and so on."
Jean-Jacques Dordain:
"The most important heritage of the International Space Station is the partnership. The partnership will stay much longer than the hardware. The hardware will finish at one point in time, but the partnership will stay."
euronews:
Jan, when you get into the job, on July 1st, what's the first thing you're going to be doing?
Johann-Dietrich Wörner:
"The first thing will be: I will talk to the people, to the staff of ESA, because I know only a few of them. And they should know about me, and I would like to know about them. I would like to know what their main interest in day-to-day work is, and where their visions are, so communication will be the first thing."
euronews:
Jean-Jacques, we're currently in the situation where on Sept. 1 we'll have one spare seat going to the International Space Station. Are you going to fill it?
Jean-Jacques Dordain:
"If you give me $40 million, I am ready! This is the cost. But if I can go for free, yes, I am ready! Because you know that my dream has always been to be an astronaut. I have been selected to be an astronaut. Since I could not, the backup was to become Director General! But I am ready to be the first Director General to become an astronaut."
Follow our latest news and features about space and science on euronews and euronews.com.