MERS death toll reaches 23; WHO says rate of infection slowing
Comments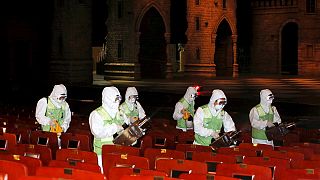 The World Health Organisation, (WHO), has praised South Korea's approach to the nationwide outbreak of Middle East Respiratory Syndrome.
The coronavirus, known as MERS, has killed 23 people so far, while over 6,700 are in isolation in homes or medical facilities.
Almost a month after the outbreak, more than 160 people have been diagnosed with the virus.
Director General of the WHO Margaret Chan told South Korea's foreign minister that while the response was initially slow, it had been exemplary.
"We begin to see the cases coming down. So, we must keep up with the efforts and hopefully, you know, within a short time, we can see the outbreak under control," she advised.
Moody's Investors Service says the outbreak may cause problems for South Korea's economic recovery.
However, there are signs the rate of infection may be slowing and the organisation has urged South Korea's regional neighbours to step up preventative measures.
Quarantine officials in airports such as Narita near Tokyo are now directly questioning people disembarking from flights from South Korea and the Middle East.