Chile: Teachers and students protests against education reforms
Comments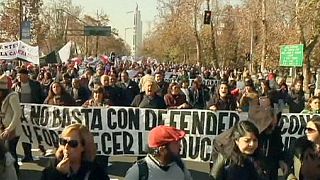 Tens of thousands of teachers and students have been protesting in Santiago against a government education reforms.
The peaceful march turned more violent with students throwing rocks at police who responded with water cannon and tear gas.
Chile's government is looking to centralise schools and regulate teachers pay.
The government is pushing its bill through parliament without the support of teachers who say that have not been consulted on the changes.
Earlier this year Congress approve the first batch of government education reforms which included and end to profits at state.subsidised schools and eliminates their selective entrance policies. a