Dallas police HQ shooting: suspect killed during standoff
Comments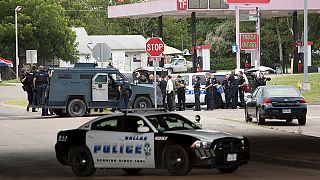 US authorities have carried out a controlled explosion on the van of a man who attacked the Dallas police headquarters.
Video footage showed his vehicle in flames after a 20 kilometre police chase which followed the gun and bomb ambush, just after midnight on Saturday.
The suspect who identified himself as James Boulware was killed in a final shoot-out with officers.
His earlier attack on the Dallas police station left windows shattered and bullet holes in building walls and police cars.
He then rammed a patrol car before making his getaway.
The suspect threatened to kill officers and apparently blamed police for losing custody of his son.
An investigation has been launched.