Turkey's Erdogan to 'stay out of party politics' as coalition talks continue
Comments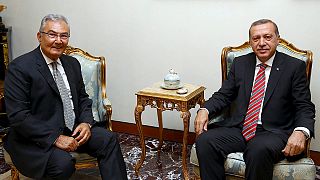 In line with Turkey's constitution the president will not be involved in the current political horse trading going on to try and form a new government.
That's according to Prime Minister Ahmet Davutoglu who also said that since Sunday's election when his ruling AK Party lost its majority, he's been trying to find coalition partners.
In an interview with state-run television the prime minister stated he would sincerely meet with every opposition party, for the benefit of the country, based on moral principles. "We are ready to discuss everything," he said "as long as it is not against our basic political principles"
But his assurances or even possible warnings against any meddling from the president became suspect when the leader who's not been seen since Sunday played host to senior opposition lawmaker Deniz Baykal .
Opposition parties have accused President Recep Tayyip Erdogan, who founded the AK Party more than a decade ago and remains a dominant figure, of continuing to exercise his influence in parliamentary affairs despite a constitutional ban on him engaging in party politics as head pf State.
Meanwhile the leader of the pro-Kurdish HDP party has accused the government of deliberately standing aside while violence has grown in the mainly Kurdish south east . Seven people have now been injured as tension remain high just days after the HDP won their first parliamentary seats.