FIFA media director De Gregorio quits; Blatter rejects European Parliament call to go now
Comments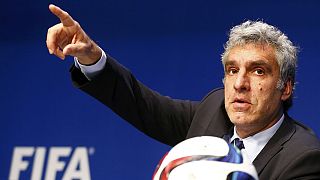 FIFA's Director of Communications Walter De Gregorio is stepping down immediately. No reason was given but it comes two days after he made a deprecating joke in public about football's scandal-hit governing body.
The FIFA president, secretary general and media director are sitting in a car. Who's driving? Answer: The police
Some reports say outgoing President Sepp Blatter sacked him, but the statement released by FIFA just says he has "relinquished his office".
De Gregorio was asked on Swiss TV to tell his favourite joke. The seemingly ill-fated quip came right at the end of the programme (in German):
Reports that Walter De Gregorio was pressured to leave role as #FIFA comms chief after telling this joke on Swiss TV pic.twitter.com/AZZIquzkzo

— Bleacher Report UK (@br_uk) 11 Juin 2015
Blatter himself has rejected a call by the European Parliament for him to resign immediately. He has said he will stand down after a new election.
MEPs overwhelmingly passed a resolution calling on him to go now.
"FIFA as an organisation, in its current form, is no longer fit to run international football. Small change will not be enough but big change may not be enough either. FIFA needs a fresh start, a complete overhaul of the organisation's culture and institutions," Tibor Navracsics – the EU Commissioner for Education, Culture Youth and Sport – told the parliament's session on Wednesday night ahead of Thursday's vote.
Not the job of EU_Commission</a> to run sport but we support those who are serious about reform <a href="https://twitter.com/hashtag/FIFA?src=hash">#FIFA</a></p>&mdash; Tibor Navracsics (TNavracsicsEU) 10 Juin 2015
The parliament's motion, backed by seven main political groups, said FIFA could not begin urgent reforms without new leadership – and called for an interim leader to replace Blatter.
FIFA has since indicated that the vote to elect his successor will not take place until between December and February, in a statement announcing the date of its Executive Committee's extraordinary meeting, which will take place on July 20.
Sepp Blatter announced his resignation on June 2, four days after being re-elected as President of FIFA in the wake of a scandal that saw several top football officials arrested or charged as part of an FBI corruption investigation.