Pope calls on Putin to make "sincere, great effort" for Ukraine peace
Comments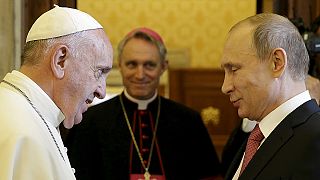 There was an apparent air of awkwardness as Pope Francis welcomed the Russian President Vladimir Putin to the Vatican.
The pair met for about 50 minutes and it is understood the issue of Ukraine dominated with the men agreeing on the need to recreate a climate of dialogue.
The Vatican said the pope told Putin that it was essential to resolve the "grave humanitarian situation" and allow aid into conflict areas.
They also stressed the Minsk peace deal must be implemented to end fighting between Ukrainian government forces and pro-Russian separatist rebels., allegedly armed by Moscow.
Putin met the pope after holding talks with the Italian Prime Minister Matteo Renzi at the Milan Expo.
There too, many were expecting a response to Moscow's role in the Ukraine crisis and its annexation of Ukraine's Crimea region last year.
But the Italian leader showed next to no sign of breaking ranks over European Union sanctions against Russia.
Putin's visit comes two weeks before the EU is due to decide whether to extend economic sanctions against Moscow.