Putin hails "special relationship" with Italy on Milan visit
Comments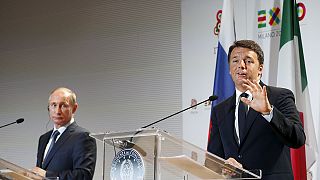 Italy's playing host to the Russian President at the Milan Expo.
Prime Minister Matteo Renzi offered no sign of breaking ranks with his European partners over sanctions against Moscow.
Nonetheless, Vladimir Putin praised Italy as one of Russia's most important trade partners. "It's a huge investor in Russia's economy. We continue to work together on an international stage, striving to take into account and respect the interests of one another."
Renzi made no explicit reference to the Ukraine crisis but he he did say there was a need to face "challenges over divergent positions."
The meeting comes two weeks before the EU is due to decide whether to extend economic sanctions against Moscow.