Fighting flares up near Donetsk in eastern Ukraine
Comments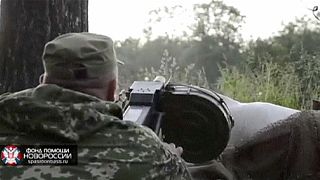 Fierce fighting is raging between Ukrainian forces and pro-Russian rebels in Maryinka in eastern Ukraine, officials on both sides said on Wednesday.
Separatists reportedly advanced on the city – located about 20 km west of rebel-held Donetsk – using tanks and heavy artillery.
The flare-up in violence threatens an already fragile ceasefire agreed in February.
The clashes in Maryinka have already killed 15 people and injured around 60, according to the rebel-run local news agency DAN. But the Ukrainian military said government forces still controlled the town.
"Tanks, mortars, artillery were used. The enemy is trying to move forward," said Ukrainian military spokesman Andriy Lysenko. "The Ukrainian servicemen rebut all attacks and successfully hold their positions. The situation is under their control."
Further south of Maryinka lies Mariupol, a major Ukrainian port near which fighting has continued despite the ceasefire, ravaging the village of Shyrokyne.
The conflict in eastern Ukraine has killed over 6,400 people since it began in April, 2014.