Service held at Brussels Synagogue in memory of terror attack victims
Comments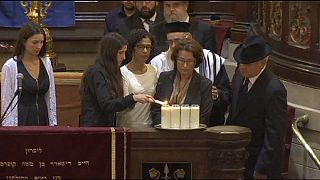 A ceremony has taken place on Monday at Brussels Great Synagogue to mark the one-year anniversary of the attack on the city's Jewish Museum, which resulted in the deaths of four people.
Both government and religious representatives were present for the memorial service including Belgium's Foreign Affairs Minister, Didier Reynders.
Two men, alleged to be Muslim extremists, are being held by Belgian police for the murders.