FIFA corruption probe: more arrests and suspensions
Comments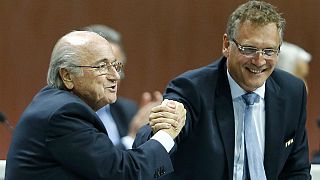 US prosecutors investigating FIFA corruption believe Sepp Blatter's top lieutenant made 10 million dollars in bank transactions central to the bribery probe into the world football governing body.
Jerome Valcke, FIFA's secretary general is described in New York federal court papers cited by Reuters as an unidentified "high-ranking FIFA official" who in 2008 transferred the money to another FIFA official Jack Warner.
Valcke has not been accused of any wrongdoing.
One of the most powerful executives in Brazilian football Ricardo Teixeira is facing charges of money laundering and tax evasion in Brazil.
The former president of the country's football federation is accused of contravening currency laws.
A senior police official said on Monday the former head of South America's football federation Nicolas Leoz was under house arrest in Peru. Leoz had been a member of FIFA's executive committee for more than ten years.
Earlier in the day a judge ordered the 86-year-old's detention, but said he should not be imprisoned because of his age.
In Zurich, the general secretary of Concacaf, which governs football in North and Central America as well as the Caribbean, has been suspended from all football-related activities.
Enrique Sanz has been banned after investigations carried out by FIFA's ethics committee.