Iraq: Hundreds attend funerals of police and militiamen killed in ISIL attack
Comments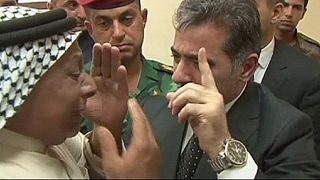 Hundreds of mourners have attended the funerals of over 40 police and Shia militiamen who were killed following an Islamic State militant attack in Iraq on Monday.
It's been reported that three ISIL suicide bombers were responsible for the deaths at a police base in Anbar province. At least 60 more people were wounded.
Iraq's Interior Minister, Salem al Ghabban, attended the services in Baghdad and met with the relatives of the victims.
Meanwhile, US-led forces targeted ISIL fighters in both Syria and Iraq.
Separately, the Iraqi government said its air force carried out air strikes against Islamic State militants in both Anbar and Salahuddin provinces.
Anbar Province has been the scene of fierce fighting in recent weeks between pro-government forces and ISIL militants.
The country's Ministry of Defence described the attacks as "painful" with headquarters, ammunition and equipment being destroyed. A large number of fighters were also said to have been killed.
.