Operations intensify to rescue 'biggest wave' of Mediterranean migrants
Comments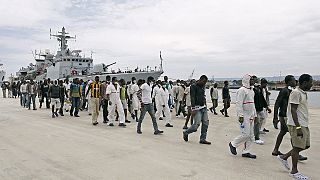 Thousands more migrants rescued from the Mediterranean have continued to arrive in Italian ports.
This is the biggest wave of migrants we have seen in 2015
Over 450 were taken to Augusta in Sicily on board the Fenice, an Italian navy warship.
Most are reportedly from Eritrea, one of the world's most secretive countries, where alleged human rights abuses have sparked a refugee exodus.
Also on board were the bodies of 17 migrants recovered from one of the boats off the Libyan coast.
Italian media reports say they probably didn't drown but were trampled to death in the rush for places on the overcrowded vessels.
European authorities said more than 5,000 migrants had been saved from boats in distress since Friday, and operations were underway to rescue hundreds more.
In some of the most intense operations of the year, migrants who left Libya in 25 boats were picked up by ships from Italy, Britain, Malta and Belgium, assisted by planes from Iceland and Finland, the EU's border control agency Frontex said.
Naval and merchant vessels involved in rescue operations also came from countries including Germany, Ireland and Denmark.
Frontex is coordinating an EU rescue mission in the Mediterranean known as Triton, which was stepped up after around 800 migrants drowned off Libya in April in the Mediterranean's most deadly shipwreck in living memory.
"This is the biggest wave of migrants we have seen in 2015," Frontex Executive Director Fabrice Leggeri said in a written statement. "The new vessels that joined operation Triton this week have already saved hundreds of people."
Italy has so far borne the brunt of Mediterranean rescue operations. Most of the migrants depart from the coast of Libya, which has descended into anarchy since Western powers backed a 2011 revolt that ousted Muammar Gaddafi.
Calm seas are increasingly favouring departures as warm spring weather sets in.
The migrants saved over the weekend are all being disembarked at nine ports on the Italian islands of Lampedusa, Sicily and Sardinia and on its southern mainland regions of Calabria and Puglia.
The latest wave of arrivals will take the total of those reaching Italy by boat across the Mediterranean this year to more than 40,000, according to estimates by the United Nations refugee agency.
The EU this month agreed on a naval mission to target gangs smuggling migrants from Libya, but a broader plan to deal with the influx is in doubt due to a dispute over national quotas for housing asylum seekers.
The plan to disperse 40,000 migrants from Italy and Greece to other countries met with resistance, with Britain saying it would not participate and some eastern countries calling for a voluntary scheme.