ISIL militants step up attacks on Libyan city of Misrata
Comments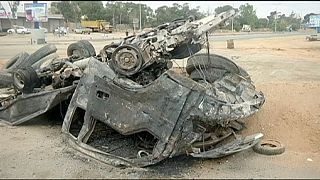 ISIL militants have said they were behind a suicide car bombing in the Libyan city of Misrata on Sunday. Five people died and eight others were injured in the attack.
The bomber apparently rammed his car at the city's main checkpoint.
Misrata which lies east of Tripoli is allied to the country's unofficial government that controls the capital.
Khalifa Ghwell who is prime minister of the rival government based in Tripoli has vowed support for all army, police and revolutionary forces in an effort to drive out the militants who have come to Libya wrongly claiming they represent Islam.
ISIL which already controls the neighbouring town of Sirte has recently launched several attacks on Misrata, exploiting a security vacuum as Libya's two competing governments battle for power..
The internationally recognised government operates out of east Libya since losing control of the capital last August.