USA: Anti-Islam rally targets Arizona mosque
Comments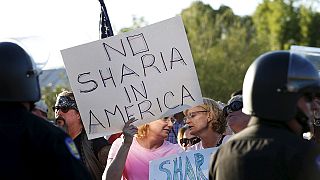 Demonstrators, some of them armed, have denounced Islam outside a mosque in the US state of Arizona.
The provocative protest comes weeks after another anti-Muslim event in Texas came under attack by two gunmen.
Riot police were deployed to separate those taking part in the latest rally from counter-demonstrators.
Some of this group carried signs saying ' Just Love' and 'Love All'. But others were more vocal and tensions were high as both sides screamed insults at each other.
The mosque in Phoenix, targeted in Friday's rally, had been attended by the two gunmen who opened fire earlier this month at an exhibit of cartoons near Dallas featuring the Prophet Mohammad.
Both gunmen were shot dead by police, without killing anyone.