'Fast and Furious' cars on show in United Arab Emirates
Comments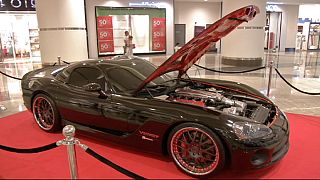 It's the year's biggest box office smash, the fourth of all time.
Cars used in "Furious 7" have been on display to fans in the United Arab Emirates where the film was partly shot.
Vehicles worth hundreds of thousands of euros were lent to the movie-makers by Abu Dhabi car owner Saif Alamoudi.
They included a two-million dirhams (500,000 euros) Lamborghini Aventador, a Dodge Viper, priced at 700,000 dirhams (175,000 euros) and a Mercedes AMG C63 (110,000 euros).
The three cars used in the film by Vim Diesel, Paul Walker (replaced by his brother after his death on November 30, 2013 while the film was under way) and Michelle Rodriguez have been on show at Sharjah's Sahara Centre in the UAE.
Speaking at the centre, Alamoudi told euronews how the "Fast and Furious" directors and his company PP-performance reached a deal.
"The 'Fast and Furious 7' crew came to Abu Dhabi and saw the cars, and the director was persuaded to film here. We said that we were ready to give our complete support, we offered all necessary assistance, the cars, petrol, under those conditions they filmed their production in the Emirates," he said.
With government backing, the Emirates is intent on turning Abu Dhabi into a hub for the film industry.
Alamoudi says he spent over half a million euros getting the "Furious 7" cars ready.
Euronews correspondent in the Emirates, Rita Del Prete, said:
"The owner spent a lot of money adapting the cars to the film's needs, and says he would be delighted to lend them for free should the filmmakers decide to make a new episode."