Blatter tries to distance himself from FIFA corruption scandal
Comments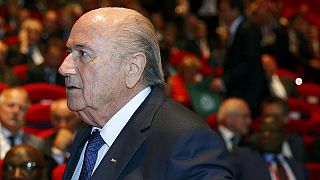 Embattled Sepp Blatter has tried to distance himself from the corruption scandal engulfing FIFA.
Blatter, speaking at the FIFA Congress, said the arrests meant these were "unprecedented and difficult times" for the world football governing body.
The 79-year-old FIFA president, who is standing for re-election on Friday (May 29), earlier rejected pleas from UEFA counterpart Michel Platini to quit.
Blatter said: "We cannot allow the reputation of FIFA to be dragged through the mud any longer.
"These are unprecedented and difficult times for FIFA, the events of yesterday have cast a long shadow over football.
"Many people hold me responsible. We, or I, cannot monitor everyone all of the time. If people want to do wrong, they will also try to hide it."
Earlier today, Platini revealed European football organisations could leave scandal-engulfed FIFA if president Blatter wins re-election.
Platini said the continent's football bosses would make a decision around next Wednesday's Champions League final in Berlin.
Platini, speaking a day after FIFA officials were arrested on suspicion of corruption on Wednesday, confirmed he had visited Blatter on Thursday morning, asking him to resign.
Blatter told him it was too late to resign because the annual FIFA Congress was already underway.
Platini also revealed a majority of European football bodies were backing the other candidate in the presidential race, Prince Ali.
Asked why other football governing bodies in the world were supporting Blatter, Platini said they were scared of FIFA, because they have nothing, compared with European football.