Russia: FIFA arrests are 'obvious attempt' to stop Blatter re-election
Comments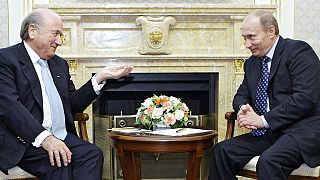 Russia is accusing the US of meddling outside its jurisdiction, after the arrests of top FIFA officials.
President Vladimir Putin says America is trying to stop Sepp Blatter securing another term at the top of the governing body.
Moscow continues to give Blatter its full backing.
"It's another obvious attempt to spread its jurisdiction to other states," said Putin.
"This is certainly, I have no doubt about it, an obvious attempt to prevent Mr Blatter's re-election as FIFA president:"
Russia also says that it has "nothing to hide" over its award of the 2018 World Cup.
That, and the following tournament in Qatar, are the subject of a Swiss criminal investigation.
Russia's Sports Minister Vitaly Mutko has said they will "show everything" to investigators.