Jack Warner turns himself in after being accused of corruption in FIFA scandal
Comments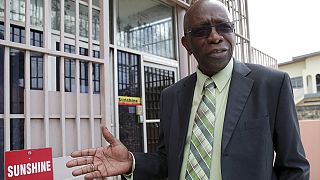 Former FIFA vice president Jack Warner, who is one 14 top FIFA officials and corporate executives to be accused of corruption, has been released on bail after turning himself in to the Trinidad authorities.
Warner's the latest to become embroiled in the scandal engulfing world football's governing body.
Meanwhile the FBI in Miami has extended its investigation by raiding the headquarters of CONCACAF – the confederation which oversees football in Latin America and Caribbean regions.
The US has become involved for two reasons: Because it is felt that US financial institutions have been used to give an air of respectability to alleged corrupt dealings.
And because former top FIFA official Chuck Blazer reportedly turned informant after being investigated for tax irregularities.
The arrests – and there could be more say US lawyers – may also have implications for the sport's international sponsors. While they are all expressing concern at the allegations of kick backs and bribes, their dealings with FIFA are also under scrutiny.
The investigation which involves racketeering, fraud and money landering appears to be to split into two separate cases, as Andre Marty who is a spokesperson for the Swiss attorney General's office explained:
"The case regarding the U.S. authorities is dealing, basically, with some sports marketing TV rights issues regarding tournaments that are, or were, held in the United States and Latin America. While the Swiss criminal proceedings is focusing on the allocation on the World Cups in 2018 and 2022," he said.
Swiss prosecuters opened criminal proceedings "against persons unknown on suspicion of criminal mismanagement and of money laundering in connection with the allocation of the two Wold Cups awarded to Russia and Qatar.
The first the world knew about the scandal involving more than 150 million dollars of bribes over 24 years came with a dawn raid at an expensive Zurich hotel Seven senior football officials, were arrested .
Despite what's happened FIFA says it intends to go ahead with its presidential election on Friday. The current boss, Sepp Blatter, who is not among those indicted, remains favourite to win a fifth term.
His reaction has been to announce a provisional ban on those involved in the US prosecution and to vow to kick out corrupt officials who tarnish the 'beautiful game'.