Fifagate: 'I don't think bribery is likely,' says Russian anti-corruption official
Comments
By
Euronews
with
The Moscow Times, Reuters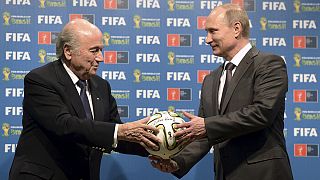 The Fifagate scandal has cast a shadow over the validity of Russia's successful bid to host the 2018 World Cup.
However, the chief of the country's top corruption watchdog has pushed aside any doubt, claiming political pressure is being put on Moscow, in attempt to strip Russia of the tournament.
Kirill Kabanov, Chairman of Russia's National Anti-Corruption Committee, said:
"Theoretically, taking the World Cup away from Russia is possible, if it is legally decided that Russia won unlawfully… But, I don't think bribery is likely at all."
US and Swiss authorities have opened separate investigations into FIFA, football's world governing body. As the inquiries were announced, Moscow accused Washington in particular of reaching "far beyond its borders" and of illegally applying legal force.
It is unclear whether any Russians are among those detained or indicted in the two investigations. However ten people from the host-nation selection committee for the 2018 and 2022 tournaments are expected to be questioned.