Iraq 'exhumes 470 bodies', thought to be victims of ISIL-led massacre
Comments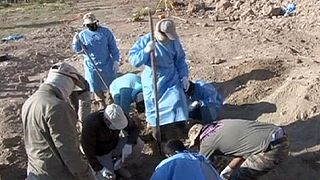 Iraq's health minister has announced that 470 bodies have been exhumed from a mass grave near the city of Tikrit.
Those buried are believed to have been executed by ISIL jihadists in 2014, in what is known as the Speicher massacre.
In June 2014, hundreds of mainly Shi'ite recruits were abducted from the Speicher military base, near Tikrit. They were reportedly lined up and killed one-by-one, then hastily buried or pushed into the nearby Tigris river.
Iraqi military forces have secured Tikrit, Saddam Hussein's hometown. Joined by Shi'ite militiamen, they are now said to be advancing on the Baiji oil refinery – a key ISIL stronghold some 40 kilometres to the north.
Security forces have poured resources into securing the site and have also vowed to retake the western city of Ramadi, the capital of Anbar Province.
Although Iraqi forces have been making steady progress against extremists in the country, Anbar has proven difficult to recapture.
Forces are also said to be advancing on the Al Nibae district, some 50 kilometres northwest of the Iraqi capital, Baghdad. The area is also believed to be held by extremists.