Peru: man shot dead by police during mining protest, says union
Comments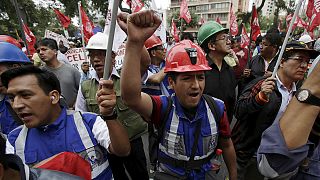 A man supporting a strike at a mine in southern Peru has been killed during clashes with police.
He was shot dead by officers, who fired pellets and live bullets during a protest, according to a union official. It happened in the town of San Juan de Marcona, in the Ica region.
The strike is over the laying off of 85 workers at the Shougang mine, which is run by a Chinese company. Protesters are also calling for drinking water to be provided in the area.
Mining conflicts are common in the South American country.
A 60-day state of emergency is currently in place in Islay, in the Arequipa region. It has been rocked by deadly protests against the Southern Copper Corporation's Tia Maria project.
Plans for the copper mine have now been put on hold, after a fourth death during clashes.
Critics fear the project will pollute land and water. Southern Copper, controlled by a Mexican company, says it would adopt the highest standards and has an environmental plan in place.
The state of emergency is being enforced in nine districts in Arequipa. It suspends civil liberties, allows police and troops to impose curfews and order an end to two months of protest.