Ukrainian separatist warlord dies in bomb blast
Comments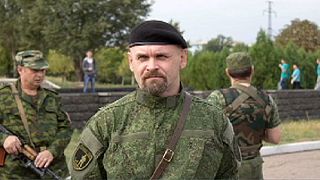 According to Russian news agencies, a pro Kyiv military group has claimed responsibility for the death of a prominent separatist commander in eastern Ukraine.
Alexei Mozgovoi who died in a car bomb attack on Saturday had led a brigade which has taken part in some of the heaviest battles in the Lukansk region.
However his death may not be as straight forward as some think. Mozgovoi is believed to have received several death threats and was known to have highly critical of the Russian-backed separatist leadership.
Ukrainian separatist warlord assassinated by land-mine http://t.co/b87DyBWJZW#DailyTelegraph#telegraph#news

— WorldNews_net (@worldnews_net) May 24, 2015
Elsewhere and renewed shelling reportedly by the separatists is threatening one of Europe's biggest coke plants.
The Avdiyivka plant is owned by Ukrainian steel maker Metinvest and produces 40 percent of the country's coke.
Plant Directer Musa Magomdov said the building has been hit over 200 times.
" We are trying to keep it going, to keep production running," he said. "We restart production again and again and put in every effort. But our people are scared. I am scared. But we work because we understand that if the plant stops, no one will rebuild it."
The shelling which left a civilian and a Ukrainian serviceman dead has put fresh strain on a tenuous ceasefire which has been regularly violated since it was brokered last February in neighbouring Belarus. by Russian, Germany and France.