Komorowski threatened by right-wing rival Duda in Poland's presidential run-off
Comments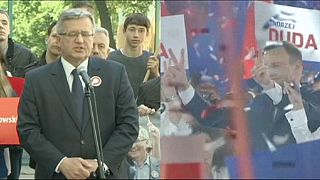 Polish President Bronislaw Komorowski is running neck-and-neck with his right-wing challenger ahead of Sunday's election run-off.
The presidency is largely a ceremonial post but victory for Andrzej Duda could boost the chances for his Law and Justice party at parliamentary elections in October.
While it wants to claw back powers from Brussels and put national interests first, Komorowski has warned voters not to choose a Poland riven by internal conflict and opposition to the EU.
But disillusionment with the government widespread – as reflected in some views from the streets of Warsaw.
"Komorowski is too old, he has been incumbent too long, we need somebody new," said one man.
"I think he's proved himself as president and takes care of our interests; he doesn't do anything strange," another disagreed.
"People weigh up who is worse and vote for the other one," said a third man.
"It is hard to say who to choose, but we prefer calm and stability," a woman added.
Komorowski, whose Civic Platform party has been in power for eight years, says victory for his opponent could jeopardise a decade of relative economic success and bring a lurch to the right.
But many voters are tempted by Duda's youthful appeal – which could augur well for Law and Justice party leader Jaroslaw Kaczynski at October's general election.