EU Summit: Cameron 'confident' of reforms in Brussels
Comments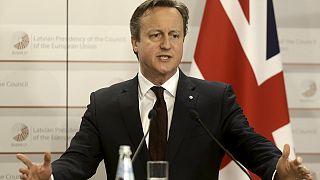 British Prime Minister David Cameron is "confident" of an agreement with his European counterparts on EU reforms but warns they "wont be easy".
Leaders wrapped up a summit in Riga on Friday which focused on closer ties between Brussels and several former Soviet countries including Ukraine.
But the newly re-elected Cameron had a different agenda. Buoyed by winning a second term in office two weeks ago, he's vowed to make good on an election promise of an in/out referendum on Britain's EU membership by the end of 2017.
He promised to renegotiate Britain's ties with Brussels and told a media conference in the Latvian capital:
I'm meeting EU leaders at the #RigaSummit today. I plan to deliver EU reform before holding an in/out referendum by the end of 2017.

— David Cameron (@David_Cameron) May 22, 2015
"Britain is not happy, I'm not happy with the concept of ever closer union. It's not really what we joined or signed up for so let's sort that out. I'm not happy that the single market is properly safeguarded when you've got the countries of the euro zone having to move towards greater integration - let's sort that out. And I'm not happy with the situation with regards to the scale of migration and the interaction between migration and welfare - let's sort that out. Is it possible to do this? Yes of
course it is."
Cameron: We're making a start on EU reform http://t.co/LEAgPzqXG1

— City A.M. (@CityAM) May 22, 2015
GUARDIANFRONTPAGE: "Bank of England gaffe reveals secret EU referendum strategy" #skypaperspic.twitter.com/Pcxg6vFSoU

— Sky News (@SkyNews) May 22, 2015