ISIL forcing coalition to reconsider its strengths
Comments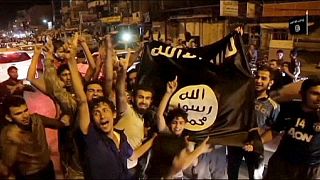 Islamic State militants have been steadily battering Iraqi government forces. Well-armed and resourceful, ISIL's bombs are found buried in villages, and roadside explosive traps are common. Yet ISIL's latest victories have further reconfirmed that their support extends beyond the battlefield.
After Islamic State fighters captured Ramadi, in central Iraq, about 110 kilometres west of Baghdad, video coming out purports to show celebrations in Mosul.
The scale of the militants' control and spread in parts of Syria and Iraq is significant. ISIL forces have overrun a series of towns and cities and they are consolidating. The Iraqi government is understood to control only pockets of territory.
The IS advance has exposed dire shortcomings in Iraq's army and the limited value of US-led coalition air strikes. Despite claims that an ISIL leader was recently killed in Syria, President Obama was at a loss to explain the fall of Palmyra.
However, Washington continues to insist that its strategy will be successful in the long-term.
State Department spokesperson Marie Harf said: "In Iraq, for example, we've talked a lot about Ramadi and that is a serious setback. We have had success in helping the Iraqis push ISIL out of a lot of territory. In a long conflict like this, there will be days like we saw in Ramadi, and there will be ebbs and flows, but we believe the strategy we have is the right one, is the right framework moving forward."
For its part, Russia has been keen to develop relations with what it calls its "old and reliable" partner in the region. President Putin has promised Iraqi Prime Minister al-Abadi help against ISIL. Iraq is reportedly ready to buy billions of US dollars worth of weapons from Russia.
However, given Iraqi troops' withdrawal from Ramadi, ISIL's persistence has renewed calls for other troops on the ground. This week's annual multi-national combat drills in Jordan have raised speculation over whether countries are preparing to fight Islamic State with both traditional and unconventional means.