Thousands of Ramadi residents flee towards Baghdad, after ISIL takeover
Comments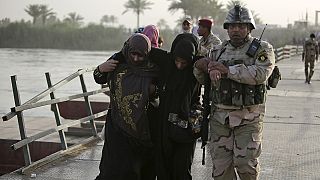 Thousands more civilians have flooded out of the Iraqi city of Ramadi, now in the hands of the self-proclaimed Islamic State.
Crowds of people are crossing a bridge on the outskirts of Baghdad, as they try to reach the capital. They are fearful and angry.
"Curse be upon them (ISIL militants). Even the authorities have abandoned us," shouted one displaced man.
Government forces, backed by Shi'ite militias are preparing to launch a counter-attack, in a bid to try and re-take Ramadi.
"The next battle in Anbar won't be easy, but it is less complicated than those in Diyala and Salahuddin provinces," said Karim al-Nouri, spokesman for the al-Hashd al-Shaabi Shi'ite militia.
"The open and vast area of Anbar province will allow us to easily pursue and kill Islamic State militants by airstrikes."
ISIL is looking to consolidate its gains in Anbar, where only pockets of territory remain under government control.
The militants' advance has exposed the shortcomings of Iraq's army and the limitations of US air strikes.
On Thursday, Russian President Vladimir Putin said that Moscow and Baghdad were expanding military cooperation.
It came during talks with Iraqi Prime Minister Haider al-Abadi at the Kremlin.
Russian Foreign Minister Sergei Lavrov said before the talks began that Russia was ready to supply weapons to Iraq to help it combat ISIL militants.