Italian navy carries 900 illegal migrants to Sicily
Comments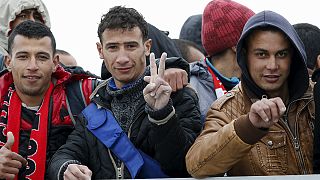 An Italian navy ship carried a dead body among the 900 illegal migrants brought to shore on Thursday in the Sicilian port of Augusta.
The men, women and children were picked up a day earlier from three boats drifting in the Mediterranean. The coastguard said bad weather meant none were spotted at sea on Thursday.
Navy ship commander Francesco Coronas said: "One migrant was found dead on the boat. We couldn't do much about it. We tried to resuscitate him but it didn't work out."
A Dutch container ship helped in the rescue of at least 300 hundred people from one vessel.
Among those picked up were many Syrians escaping the country's 4-year-old civil war.
Read the International Organisation for Migrant's latest update on migrant numbers.
12,460 #migrants arrived by sea to Italy in May, total no. arrivals since Jan 2015 is 38,690 http://t.co/2PuuDRK9zepic.twitter.com/uZ5qjpvdDa

—

IOM

(@IOM_news) May 20, 2015
They've joined more than 36,500 migrants who have reached Italy this year. It's believed that close to 2,000 others have died or are missing after attempting the journey.
Andrew Stroehlein, European Media Director of Human Rights Watch says proposed military action to target migrant boats will endanger lives.
#EU military action could expose migrants to serious risks. Saving lives should take priority http://t.co/F0wenC5yHtpic.twitter.com/GKhYldvtiQ

— Andrew Stroehlein (@astroehlein) May 21, 2015