Cambodia: bomb removed from Mekong river
Comments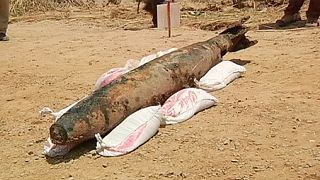 A bomb found at the bottom of the Mekong river in Cambodia has been carefully removed from the water.
A fisherman had spotted the MK80 series aircraft bomb, the type that was dropped from US forces planes during the Cambodia-Vietnam war.
On 18 March 1969, American B-52s began carpet-bombing eastern Cambodia.
"Operation Breakfast" was the first phase in a four-year bombing campaign that drew Cambodia headlong into the Vietnam War.
The US dropped 540,000 tons of bombs, killing anywhere between 150,000 and 500,000 civilians.