Iran's Supreme Leader refuses access to military sites and scientists
Comments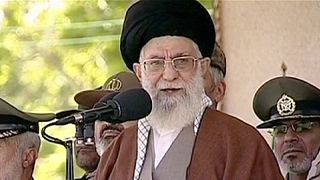 Iran's supreme leader says he will not allow inspections of military sites or access to scientists, under any nuclear agreement with world powers.
Ayatollah Ali Khamenei told military commanders that the more leniency the Islamic Republic shows, the more demanding the US and its allies will become.
"We will not allow any inspection of any Iranian military sites by foreigners," said Khamenei.
He added that world powers want to "interrogate" scientists.
"We will not allow the slightest insult to the discretion of our nuclear scientists or scientists working in any other sensitive field," he said.
Iran and six world powers have launched a fresh round of talks in Vienna, aimed at reaching a final deal over Tehran's disputed nuclear programme.
The timing of sanctions relief and the future of atomic research and development are still sticking points.