Nuclear talks with Iran jammed repeatedly over the years
Comments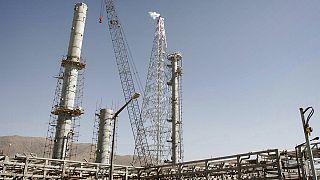 Deep concerns about Iran's potential nuclear ambitions began to rumble through western capitals in 2002. Satellite photos were made public of Natanz and Arak — secret till then. One was a centrifuge uranium enrichment site and the other a heavy water production plant linked to significant plutonium output.
The White House said it feared an "across-the-board pursuit of weapons of mass destruction" by Iran.
But uranium enrichment could be for civil use too.
The independent organisation the International Atomic Energy Agency (IAEA) secured an agreement with Tehran in 2003 which would allow inspectors to visit the facilities, and report to the UN.
In 2004, Iran agreed with France, Germany and Britain to suspend enrichment, and then President Mohammad Khatami signed a roadmap with then IAEA chief Mohamed El Baradei to further smooth things over.
But this was not to last. In 2005, Tehran binned the deal with the three EU powers and reactivated the centrifuges of Isfahan. The Europeans threatened to drag the Iranians before the United Nations Security Council.
Mahmoud Ahmadinejad was elected Iran's president in September that year. He would brand those willing to negotiate with the West as defeatist.
The president vowed that Iran would bow to no one, and had full rights to enrich fuel to generate power. In April 2006, the UN Security Council issued an ultimatum that it stop enrichment, and Iran refused.
A first series of sanctions was approved, including a ban on the sale of any technology to Tehran which might be used in its nuclear programme or to develop ballistic missiles.
The US and the EU imposed additional punitive sanctions. Five years of stalemate followed.
Ahmadinejad ordered enrichment stepped up, and in 2012 the IAEA warned that the Iranians had amassed half of the material that a nuclear bomb would require: 110 kilos.
A window of opportunity opened when a more moderate president was elected in June 2013, Hassan Rohani, the cleric who had been Iran's top nuclear negotiator with the EU.
That November, the interim 'Joint Action Plan' was signed in Geneva by Iran and the Security Council permanent members the US, Britain, Russia, China and France, plus Germany, to relaunch talks.