Migrant speaks of hopes, as EU leaders set sights on tackling people smugglers
Comments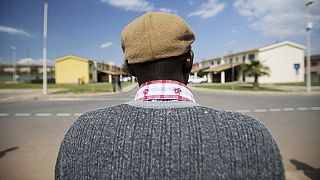 Migrants are calling for more support for Italy, as Brussels sets its sights on targeting gangs smuggling people into Europe.
Abu Daouda, 20, from Mali, is being held at Europe's largest refugee centre at Mineo in Sicily.
He also wants to see more efforts to help migrants find work.
"The European Union should try and see how they can help Italy cope with this, to help migrants find work in Europe," he said.
"We didn't come here to steal from you, we came here to help clean up the country, clean up Europe.
"My grandfather is a war veteran from the time of General de Gaulle, he told me about what happened."
The EU has agreed a naval mission to target gangs smuggling people from Libya.
However, a wider plan is falling apart, amid a row over national quotas for housing asylum seekers.
Hundreds of deaths at sea have brought migration to the top of the Brussels agenda, but there is division over how to act.