EU agrees to people smuggling crackdown in Libya
Comments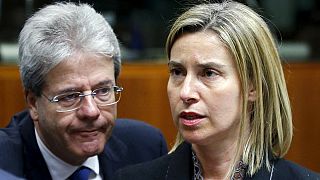 The EU has agreed a mission to fight against people smugglers operating in Libya.
A naval operation will start next month with its headquarters based in Rome.
It will be tasked with destroying the vessels used by human traffickers.
"The fundamental point is not so much the destruction of the vessels, but it is the destruction of the business model of the traffickers," said
EU foreign policy chief Federica Mogherini.
The move follows a much-criticised European Commission proposal to introduce EU-wide quotas for migrants who have already made it to Europe.
"I disagree with the criteria which have been put proposed (by the European Commission). We need to to review criteria in order to define the capacity of each member State," said Spanish Foreign Minister José Manuel García Margallo.
Italy has been one of the countries pushing for other EU members to share the burden of incoming migrants equally.
Southern European nations have long been under strain from the regular influx of migrants as they are often the first countries that they are able to reach.
"I am expecting very tough discussions," said Paolo Gentiloni, Italian foreign minister, referring to forthcoming talks between EU interior ministers. "Regarding the repatriation of people arriving, we can obtain good results."
The UN says at least 60,000 people this year have tried to enter Europe by crossing the Mediterranean sea from Libya.
At least 1,800 have lost their lives since the start of 2015.