Battle to defend Palmyra intensifies while Ramadi 'falls to ISIL'
Comments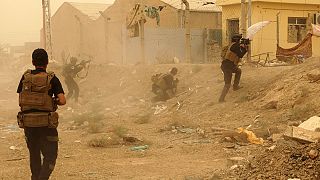 Syrian army units are said to have inflicted heavy losses upon ISIL fighters in the hills surrounding the archaeological city of Palmyra.
However it is not clear if an apparent retreat of the militants from the northern parts of the city means that the back of their assault on Palmyra has been broken.
An unverified video had earlier emerged purporting to show ISIL members raising their flag over a government building in the centre of the ancient city.
According to UNESCO, Palmyra dates back to the 1st century AD. The UN agency considers it one of the most important cultural sites in the Middle East. ISIL recently destroyed a number of antiquities in northern Iraq. Fears are growing that Palmyra will suffer a similar fate.
Throughout the weekend US and allied forces launched 26 air strikes against ISIL as the militants tried to make strategic gains in both Syria and Iraq.
On Sunday evening thousands of Iraqi civilians were seen fleeing the city of Ramadi which is reported to have fallen to ISIL fighters.
One woman said she had left due to the chaos and terror which had spread throughout the city. Shells and bombs had landed on homes and killing many families.
Ramadi is the capital of Iraq's largest province, Anbar, and is around 100 km west of Baghdad.
It contains key roads that link Iraq to both Syria and Jordan. Its loss would represent a very serious setback for the Iraqi government.
A spokesperson for the Pentagon said the situation in Ramadi was "fluid and contested" despite assertions by ISIL that they had seized full control there. The statement went to say that if Iraqi forces have been "routed" in Ramadi where security forces said they had lost a key military base on Sunday, it would mark the biggest defeat for Baghdad since last summer.