At least six dead after Nepal struck again by strong earthquake
Comments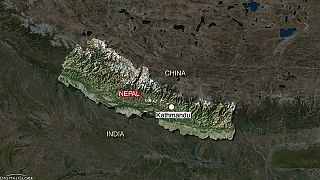 A strong earthquake shook Nepal on Tuesday, killing at least six people in the region weeks after a devastating quake left more than 8,000 people dead and destroyed hundreds of thousands of homes.
The U.S. Geological Survey has estimated the magnitude of the quake to be 7.3. The tremor struck 68 km west of the town of Namche Bazar, close to Mount Everest.
A spokesman for the International Organisation for Migration told Reuters by telephone that several buildings had collapsed in Chautara and that there had been four fatalities. According to a state official in the neighbouring Indian state of Bihar, two people had also been killed there.
Shockwaves were felt across northern India and as far away as the capital New Delhi, where buildings swayed for more than a minute and people scurried into the streets.
About to map Changu Narayan Temple with @skycatch when a 7.3 earthquake hit. Everyone is ok. #NepalQuakepic.twitter.com/jpWY69znTO

— David Chen (@chenosaurus) May 12, 2015
The quake's epicentre was close to Everest Base Camp, which was evacuated after an avalanche triggered by the April 25 quake killed 18 climbers. Mountaineers seeking to scale the world's tallest peak have called off this year's Everest season.
This was Namche Bazar before today's quake, I sincerely hope it still looks the same #NepalEarthquakepic.twitter.com/bEXciULtsN

— Thomas martienssen (@martienssen) May 12, 2015
With Reuters