Deadly new quake in Nepal adds to misery for exhausted residents
Comments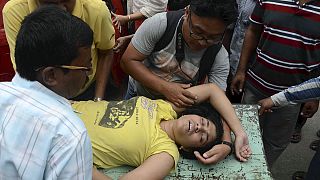 Just as Nepal was slowly starting to recover from a devastating earthquake last month, another strong quake has struck.
At least 40 people are reported to have been killed in the latest 7.3 magnitude tremor and hundreds more have been injured.
A magnitude 7.3 quake sets off a new wave of deadly destruction and landslides in Nepal: http://t.co/7fzpJVwy8X

— National Geographic (@NatGeo) May 12, 2015
"We are thinking of every child in #Nepal who has already been through so much." http://t.co/fJhJeKsX9vpic.twitter.com/JNZagLUncK

—

UNICEF

(@UNICEF) May 12, 2015
Many buildings already weakened by last month's tremor collapsed, adding to the misery for tens of thousands of people.
Politicians rushed for the exit of Nepal's parliament and buildings swayed as far away as New Delhi.
There are also reports of new landslides in valleys near Mount Everest.
The epicentre of the new quake was about 80 kilometres east of Kathmandu and it had a depth of just 18 kilometres. Shallow quakes tend to cause more damage.
#NepalEarthquake: Footage shows panic on streets in Kathmandu http://t.co/7eGGGINBfMpic.twitter.com/4qBUSGJJm6

— The Telegraph (@Telegraph) May 12, 2015
The massive 7.8 earthquake on April the 25th left more than 8,000 people dead and the country is struggling to cope with the aftermath.
The new tremor lasted up to a couple of minutes and sent people running outside in the capital Kathmandu and elsewhere.
New quake hits #Nepal as UN</a> races to deliver <a href="https://twitter.com/hashtag/aid?src=hash">#aid</a> to those affected <a href="http://t.co/iaIbyztFzb">http://t.co/iaIbyztFzb</a> <a href="http://t.co/dJ0RqJcesn">pic.twitter.com/dJ0RqJcesn</a></p>&mdash; UN News Centre (UN_News_Centre) May 12, 2015
A spokesman for the International Organisation for Migration told Reuters by telephone that several buildings had collapsed in Chautara.
The town east of Kathmandu had already suffered serious destruction in the earthquake in April.
Video: cars stream out of Kathmandu after latest earthquake on Tuesday

Shockwaves were felt in Bangladesh and across northern India as far as the capital New Delhi, where buildings swayed for more than a minute and people scurried into the streets.
According to a state official in the Indian state of Bihar, five people had also been killed there. One man was also killed by falling rocks in Chinese Tibet.
About to map Changu Narayan Temple with @skycatch when a 7.3 earthquake hit. Everyone is ok. #NepalQuakepic.twitter.com/jpWY69znTO

— David Chen (@chenosaurus) May 12, 2015
The quake's epicentre was close to Everest Base Camp, which was evacuated after an avalanche triggered by the April 25 quake killed 18 climbers. Mountaineers seeking to scale the world's tallest peak have called off this year's Everest season.
Nepal has been hit by almost daily aftershocks since the disaster in April.
This was Namche Bazar before today's quake, I sincerely hope it still looks the same #NepalEarthquakepic.twitter.com/bEXciULtsN

— Thomas martienssen (@martienssen) May 12, 2015