Cuba: 'a major player in the 21st century,' declares François Hollande
Comments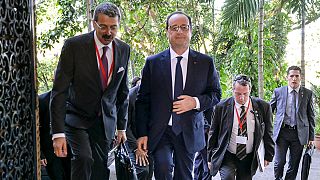 François Hollande has become the first French president to visit communist Cuba.
His one-day trip was the first by a high-profile Western leader since the thawing of US relations with the island nation was announced in December 2014.
Monday #F24Debate: Look who's in Havana... #Hollande, not Obama, in #Cuba, a first since thaw. http://t.co/GUlahA9g7kpic.twitter.com/9LyOaheeMb

— François Picard (@FrancoisF24) May 11, 2015
In 2014 the European Union began talks to restore relations with Cuba, following an 11-year suspension.
French president moves to re-establish harmonious relations with Cuba http://t.co/JHqKT53usqpic.twitter.com/JqnPMrs8Sx

— euronews (@euronews) May 11, 2015
France is one of Cuba's biggest trading partners within the EU and the countries have long cooperated in a number of other areas, including tourism and culture.
Speaking to students at the University of Havana, the president underlined France's support for Cuba and the surrounding nations:
"France has always backed Latin America's economic demands for a just distribution of wealth," he said. "Today, your continent and the Caribbean have become major players in the 21st century."
Historically relations between Paris and Havana have been cordial, but limited, due to a decades-long feud between Cuba and the US.
Political analyst Manuel Yepes described the situation.
"Before, any move by France or other so-called American allies to get close to Cuba would have invited suspicion from the US," he explained. "But now, the opening of dialogue between Cuba and the US has paved the way for the normalisation of relations."
Hollande's trip also includes a meeting with Cuban President Raul Castro, as well as Cuba's Roman Catholic Cardinal Jaime Ortega.