Berlin still detonating live WWII bombs buried deep underground
Comments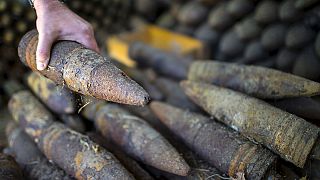 Unexploded World War II bombs haunt Germany, 70 years after the war ended.
Every year, more than 2,000 tonnes of live bombs are found and stockpiled.
Police explosive expert Detlef Jaab has defused or detonated thousands of them over the years in a high-security Berlin forest.
"Last year there were 56 tonnes, the year before slightly less, but in the nineties we sometimes had amounts reaching 120 tonnes," explained Jaab refering to the bombs found just in and around Berlin. "It always depends on the number of construction projects going on. We're gradually getting fewer and fewer, but nobody can say when it will be over."
Germany was pounded with 1.5 million tonnes of bombs from British and American warplanes during the war.
Officials say 15 percent failed to detonate and disappeared deep into the ground.
Now, hardly a week goes by without at least one bomb being found.